Jerome Camal
Position title: Associate Professor
Email: camal@wisc.edu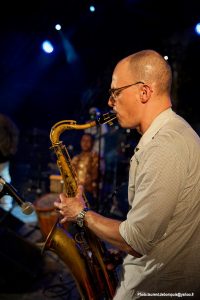 Ph.D. Washington University in St. Louis, 2011
Joined UW-Madison faculty in 2013
Links
Areas of Focus
Cultural Anthropology, Caribbean, ethnomusicology and sound studies, dance studies, postcolonial studies
Affiliations
Department of French and Italian
Latin American, Caribbean and Iberian Studies Program
School of Music
Global Music and Sound Studies Initiative
Research
My research focuses on music, dance, and postcoloniality across the French Atlantic world. Broadly speaking, I investigate how postcolonial ways of knowing and ways of being are created and transmitted through the body. My first manuscript, Creolized Aurality: Guadeloupean Gwoka and Postcolonial Politics, details how the practice and sounds of gwoka—Guadeloupe's secular drumming tradition—illuminate the somewhat contradictory demands for sovereignty and citizenship that inherently accompany Guadeloupeans' position as French citizens at the margins of the nation-state. My new project explores postcoloniality as an embodied, trans-Atlantic, practice through a study of gwoka dancing in both metropolitan France and Guadeloupe. In both these projects, I draw heavily from the writings of Edouard Glissant who, perhaps better than any other theorist, offers a rich conceptual framework with which to think the French postcolonial experience.
In addition to these topics, I have also written about tourism in the French Antilles as well as the politics of intangible heritage.
Teaching
Anthro 237: Music and Race in the Caribbean
Anthro 460: The Anthropology of Dance
Anthro 606: Ethnicity, Race, and Nationalism
Selected Publications
"Touristic Rhythms: The Club Remix." In Sounds of Vacation: Political Economies of Caribbean Tourism, edited by Jocelyne Guilbault and Timothy Rommen, Duke University Press, 2019.
Creolized Aurality: Guadeloupean Gwoka and Postcolonial Politics, University of Chicago Press, 2019.
"Creolizing Jazz, Jazzing the Tout-monde: Jazz Gwoka and the Poetics of Relation." In American Creoles: The Francophone Caribbean and the American South, edited by Martin Munro and Celia Britton. Francophone Postcolonial Studies, New Series, vol. 3. Liverpool: Liverpool University Press, 2012.
"DestiNation: The Festival Gwoka, Tourism, and Anticolonialism." In Sun, Sea, and Sound: Music and Tourism in the Circum-Caribbean, edited by Timothy Rommen and Daniel T. Neely. Oxford: Oxford University Press, 2014.
---