The Department of Anthropology holds a variety of events and colloquia throughout the academic year, as well as, a weekly archaeologically focused lecture series on Fridays from 12:00p-1:00p.
Details on upcoming events, Archaeology Brown Bags, and Department of Anthropology Colloquia can be found below.
If you have questions about upcoming events, please reach out to anthroinfo@mailplus.wisc.edu.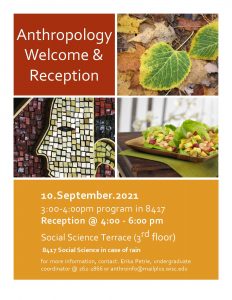 Welcome and Reception                                                                                                                                                          
Friday, September 10, 2021 at 3:00p-6:00p                                                                                                                                   
Program in 8417 Social Sciences from 3:00p-4:00p
Reception on the Third Floor Patio from 4:00p-6:00p (8417 if rain)
_______________________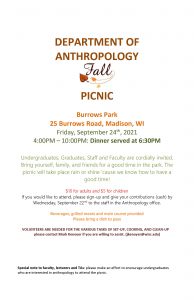 Department Fall Picnic
Friday, September 24, 2021 at 4:00p
Burrows Park
Sign-Up Sheet in Department Main Office
_______________________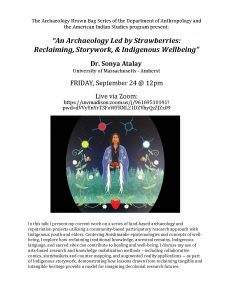 The Archaeology Brown Bag Series of the Department of Anthropology and
the American Indian Studies program present:
"An Archaeology Led by Strawberries: Reclaiming, Storywork, & Indigenous Wellbeing"
By
Dr. Sonya Atalay
University of Massachusetts – Amherst
FRIDAY
September 24, 2021 at 12:00p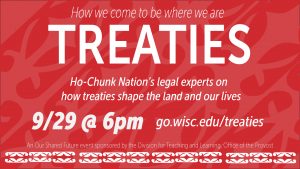 Treaties: How we come to be where we are
Wednesday, September 29, 2021 at 6:00p, Live Virtual Event
Learn from the Ho-Chunk Nation's leading legal experts about treaties, the important documents in any community, and how our ongoing nation-to-nation agreements with @hochunknation are fundamental to daily life here at Teejop (day-JOPE), the place currently known as Madison, Wisconsin. We are all Treaty People. Let's learn why, together.⁠⁠
Speakers include:
JoDeen B.Lowe, Chief Judge, Ho-Chunk Nation Trial Court (Moderator)
JoAnn Jones, Associate Judge, Ho-Chunk Nation Trial Court
Wendi Huling, Senior Tribal Counsel, Ho-Chunk Nation Department of Justice
Michelle Greendeer-Rave, Tribal Attorney, Ho-Chunk Nation Department of Justice
Sponsored by the Division for Teaching and Learning, Office of the Provost, with support from the American Indian Studies Program and the Department of Afro-American Studies.
________________________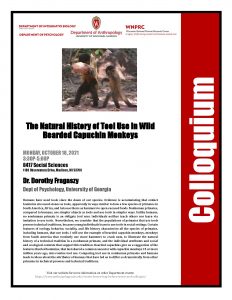 Co-Sponsored Colloquium
The Natural History of Tool Use in Wild Bearded Capuchin Monkeys
by Dr. Dorothy Fragaszy
Dept of Psychology, University of Georgia
Monday, October 18, 2021
3:30p-5:00p
8417 Social Sciences
1180 Observatory Drive, Madison, WI 53706
_________________________