Victoria Sluka
Credentials: She/Her
Position title: Graduate Student
Email: vsluka@wisc.edu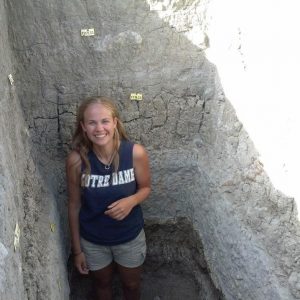 ARCHAEOLOGY
I am interested in the technology of pile textiles in Central Asia, specifically in how technological processes are transmitted between mobile groups and how these techniques are variably successful over time and space. My research also looks into variation and random error in pile textiles, and how these measures reflect the artisan, the materials, and the techniques employed. I am curious about the abilities of human artisans, and how technological innovations persist or are forgotten through time and space.
My dissertation project uses modern ethnographic carpets from Central Asia to understand the small-scale variances generated by different tools, techniques, and artisan idiosyncrasies in order to better understand the causes of similar patterns identified in archaeological and historic carpets.
I earned my MA from University College London, where I studied variation and error in Turkmen carpets under Drs. Ulrike Sommer, Margarita Gleba, and Stephen Shennan. At UW, I study under Dr. Mark Kenoyer. I am also part of the Central Asian Archaeological Landscapes project, based in London.