Emiko Ohnuki-Tierney (大貫恵美子)
Position title: William F. Vilas Professor
Email: eohnukit@wisc.edu
Address:
5450 Sewell Social Science Bldg.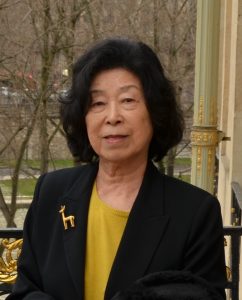 William F. Vilas Professor
Ph.D., University of Wisconsin
Links
Emiko Ohnuki-Tierney CV (Japanese)
Areas of Focus
Cultural anthropology, East Asia, Japan
Affiliations
Center for East Asian Studies
Research
Emiko Ohnuki-Tierney, William F. Vilas Professor at the University of Wisconsin, is a native of Japan. Her anthropological work began with an anthropological history of the Detroit Chinese community since their arrival in the city. She then turned to the Sakhalin Ainu resettled in Hokkaido, resulting in three books. Realizing the limitation of studying a "memory culture," she shifted her focus on the Japanese, with Illness and Culture in Contemporary Japan as her first book on the Japanese. This work made her realize how one fails to understand the people and their way of life by studying only at a particular point in time. All her subsequent works have considered long periods of Japanese history to understand "culture through time." Her foci have been on various symbols of identities of the Japanese, such as rice and the monkey, within broader socio-political contexts and in comparative perspective. In her most recent work, which began as a study of symbolism of cherry blossoms and their viewing in relation to Japanese identities, made her realize how the Japanese state, since the end of the nineteenth century through World War II, manipulated this cherished symbol of the people, especially its folk aesthetic, in order to co-opt people for their own purposes, such as waging wars and imperial expansions, without people realizing it. The work culminated in her two most recent books, Kamikaze, Cherry Blossoms, and Nationalisms: The Militarization of Aesthetics in Japanese History and Kamikaze Diaries: Reflections on Japanese Student Soldiers. In her latest book, Flowers that Kill, she focused on communicative opacity in the uses of symbols in political spaces by comparing the uses of flowers by the Japanese military with those by European dictators. She continues to explore the general theories about the role of symbolism and folk aesthetic in historical and cross-cultural perspective.
She is the author of sixteen single authored books (ten in English, five in Japanese), translated into ten languages (traditional and simplified Chinese, French, Italian, Korean, Polish, Portuguese, Russian, Turkish, & Urdu), in addition to numerous articles. She was Kluge Distinguished Chair of Modern Culture at the Library of Congress and is the recipient of John Simon Guggenheim Fellowship, La médaille du Collège de France, and other awards. She is a member of The American Academy of Arts and Sciences and has served as its mid-west council member.
---