Larry Nesper
Position title: Emeritus Professor of Anthropology and American Indian Studies
Email: lnesper@wisc.edu
Phone: 608-265-1992
Address:
4233 Sewell Social Science Bldg.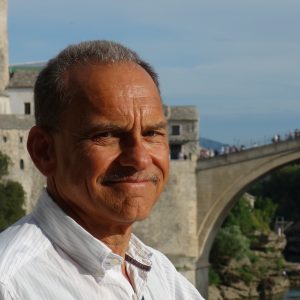 Ph.D., University of Chicago, 1994
Joined UW-Madison faculty in 2002
Links
Areas of Focus
Cultural anthropology, Legal anthropology, North America, Wisconsin
Affiliations
Joint Appointment: American Indian Studies
African Studies
Center for Culture, History and the Environment
Legal Studies
The Nelson Institute for Environmental Studies
Research
My research is in the area of Great Lakes Indian law and politics, largely in the federal Indian policy era of Self-determination (post-1960s), but I also have ethnohistorical interests in the region. I am generally interested in institutional development and am currently working on a research project on the development of the tribal courts in Wisconsin.
Teaching
I have been teaching since the mid-1970s and have a rather diversified portfolio in this domain having taught middle school, high school, GED students, and college students in seven different institutions of higher learning. Here I teach:
Anthro 104 – Cultural Anthropology and Human Diversity
Anthro 300 – Theory and Ethnography
Anthro 448 – Anthropology of Law
Anthro 353 – Indians of the Western Great Lakes
Anthro 471 – Ethnohistory of American Indian Religious and Political Movements
Anthro 940 – Seminar: Public Anthropologies
Anthro 940 – Seminar: Law in Culture and Society
Select Publications
2022
"Northeast: Research Since 1978," with Kathleen J. Bragdon, Handbook of North American Indians: Introduction, William Sturtevant, general editor.  Igor Krupnick, volume editor. Smithsonian Institution, Washington, DC.
2021
"Our relations…the mixed blood: Indigenous Transformation and Dispossession in the Western Great Lakes" SUNY Press, Tribal Worlds Series, April 2021
2021
Goodbye to "rough fish": paradigm shift in the conservation of native fishes,"  Fisheries Magazine, Andrew L. Rypel, Parsa Saffarinia, Caryn C. Vaughn, Larry Nesper, Katherine O'Reilly, Christine A. Parisek, Matthew L. Miller, Peter B. Moyle, Nann A. Fangue1 Miranda Bell-Tilcock, David Ayers, Solomon R. David
2018
"The politics of expressive forms, ethnographic practice, and indigenous-state relations," Reviews in Anthropology,"  June.
2018
"The Society of American Indians at the University of Wisconsin in 1914,"  The Wisconsin Magazine of History, Volume 102, No. 2 (Winter 2018).
2018
"Native Nation Building: The long emergence of the Oneida Judiciary," American Indian Quarterly, Volume 42, No. 1 (Winter 2018).
2015
"Ordering legal plurality: Allocating jurisdiction in state and tribal courts in Wisconsin" Political and Legal Anthropology Review, Vol. 38, No. 1: 30-52.
2013
Tribal Worlds. SUNY Press, with Brian Hosmer.
2012
"Twenty-five Years of Ojibwe Treaty Rights in Wisconsin, Michigan, and Minnesota," American Indian Culture and Research Journal, Volume 36, Number 1
2011
"Twenty-five Years of Treaty Rights and the Tribal Communities," in Minwaajimo: Telling a Good Story, eds., LaTisha A. McRoy and Howard J. Bichler. GLIFWC.
2011
"Traditional Cultural Property" in the Organized Resistance to the Crandon Mine in Wisconsin, Law and Social Inquiry 36(1):151-169.
2007
"Negotiating Jursiprudence in Tribal Court and the Emergence of a Tribal State: The Ojibwe in Wisconsin." Current Anthropology, Volume 48, Number 5, October.
2007
The Politics of Intercultural Resource Management, with James Schlender, in Native Americans and the Environment: Perspectives on the Ecological Indian, ed., Michael Harkin and David Rich Lewis. University of Nebraska Press.
2002
The Walleye War: The Struggle for Ojibwe Spearfishing and Treaty Rights. University of Nebraska Press.
---