Margaret Bryer
Position title: Assistant Professor
Email: mbryer@wisc.edu
Phone: 608-262-2574
Address:
5321 Sewell Social Science Building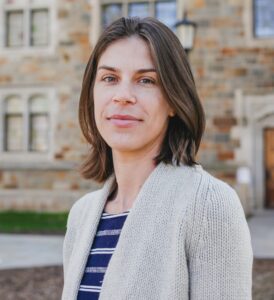 Ph.D., The Graduate Center of the City University of New York, 2020
Joined UW Madison faculty in 2023
Links
Areas of Focus
Biological anthropology, Primatology, Primate nutrition, Primate social behavior
Research
My research focuses on how ecology shapes behavior in nonhuman primates, specifically how the physical environment shapes primate behavior through feeding ecology, socioecology and foraging cognition. I use diverse analytical techniques to test socioecological questions, including nutritional chemistry and behavioral observations. I study the nutritional strategy and social behavior of African guenons (a group of arboreal monkey species in Africa), examining how social dynamics affect nutritional intake and balance ("social nutrition"). I am also a collaborator on a project examining sanctuary chimpanzee behavior that enables questions about variation in social behavior of chimpanzees across different ecological contexts.
Select Publications
Rosati, AG, Sabbi KH, Bryer MAH, Barnes P, Rukundo J, Mukungu T, Sekulya P, Ampeire I, Aligumisiriza H, Kyama S, Masereka J, Nabukeera W, Okello A, Waiga B, Atwijuze S, Camargo Peña N, Cantwell A, Felsche E, Flores-Mendoza K, Mohamed S, Monroe I, Mulhinch M, O'Gorman K, Salamango J, Shamah R, Otali E, Wrangham RW and ZP Machanda (2023) Observational approaches to chimpanzee behavior in an African sanctuary: implications for research, welfare, and capacity-building. American Journal of Primatology, e23534.
Bryer MAH, Koopman SE, Cantlon JF, Piantadosi ST, MacLean EL, Baker JM, Beran MJ, Jones SM, Jordan KE, Mahamane S, Nieder A, Perdue BM, Range F, Stevens JR, Tomonaga M, Ujfalussy DJ, and J Vonk. (2022) The evolution of quantitative sensitivity. Philosophical Transactions of the Royal Society B: Biological Sciences. 377:20200529. DOI:10.1098/rstb.2020-0529
Bryer MAH, Chapman CA, Raubenheimer D, Lambert JE, and JM Rothman. (2015) Macronutrient and energy contributions of insects to the diet of a frugivorous monkey (Cercopithecus ascanius). International Journal of Primatology, 36:839-854.
Rothman JM, Raubenheimer D, Bryer MAH, Takahashi M and CC Gilbert. (2014) Nutritional contributions of insects to primate diets: implications for primate evolution. Journal of Human Evolution, 71:59-69.
Bryer MAH, Chapman CA, and JM Rothman. (2013) Diet and polyspecific associations affect spatial patterns of redtail monkeys (Cercopithecus ascanius). Behaviour, 150:277-293.
Teaching
Anthro 105 Principles of Biological Anthropology